WONDERLAND TRIP FAMILY PACKAGE @ HILTON SANYA YALONG BAY RESORT & SPA
WONDERLAND TRIP FAMILY PACKAGE @ HILTON SANYA YALONG BAY RESORT & SPA
Dates: Now – Dec. 2017        Location: HILTON SANYA YALONG BAY RESORT & SPA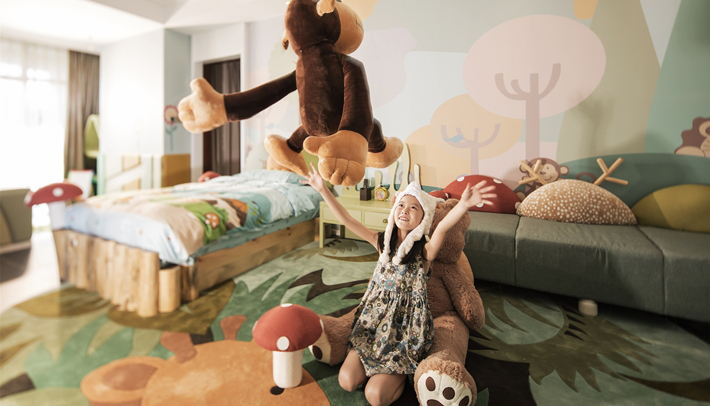 Let your children create happy memories of a family holiday they will always treasure. The ideal choice is a tropical island surrounded by crystal clear waters, white sandy beaches, plenty of fresh sea breezes and glorious sunshine.
Hilton Sanya Yalong Bay Resort and Spa is now offering deluxe family suites with ocean views for a limited time. Two themes are available - Ocean World decorated in blue hues or wild animals running through a Fairy Forest in greens. The two room suites feature a master bedroom with en-suite bathroom for the parents and a colorful themed bedroom designed for children with ship shaped or forest beds and bathroom facilities for small children. The children's room features bright colored décor and soft furnishings, a separate entertainment area with soft toys, cushions and a table for craft use. Amenities include children's bathrobes, slippers, shower toys and baby bath accessories for playing in the over-sized bath tub.
Everything the whole family could wish for, from land and water sports to gourmet dining in our six themed restaurants and bars plus beach barbecue is available. Complimentary access to the fitness center with Yoga and Tai-chi lessons will help you feel relaxed and revitalized. Children are junior VIP Guests with special amenities and a Resort Kid's Welcome Pack into the Prince & Princess Club. Kid's Ambassadors will guide the little Princes and Princesses through various daily entertainment activities. Discover the Ocean World and Fairy Forest!
Exclusive amenities and benefits:
· Daily buffet breakfast for parents and one child under 12-year old at Big Kitchen (all day dining restaurant)
·One complimentary dinner for 3 family members, buffet dinner at Big Kitchen or family set menu at China Harvest (two adults and one child below 12-years old only, buffet dinners are not available on Saturdays.)
· One afternoon tea at Teak Lounge
· Welcome fruit in the room upon arrival
· A special Resort Surprise filled bag for each child
· Complimentary Wi-Fi access in rooms
· Unlimited daily activities in Kidz Paradise
· Child bath accessories, children's bathrobes and slippers, toothbrushes and toothpaste, LEGO toys, coloring books and shower toys, soft toys and cushions.
· 50% discount on all Spa experience (except special offers or set menu)
· 50% discount on laundry service
· 30% discount on hotel vehicle transportation service
· 15% discount on A-la-cart in all restaurants
·Yoga lesson (Mondays/Wednesdays: 13:00-14:00; Saturdays: 10:00-11:30)
·Tai-chi lesson (Fridays/ Saturdays/Sunday: 8:00-9:00)
· Shuttle bus to Sanya International Duty Free Shopping Complex
Book Now: http://www3.hilton.com/en/hotels/china/hilton-sanya-yalong-bay-resort-and-spa-SYXHIHI/offers/100047326.htm