Discover a Different Kind of Chinese Culture in Haikou
Discover a Different Kind of Chinese Culture in Haikou
Dates: 2019        Location: Hainan
When you think of Chinese culture, you might think of chopsticks, paper lanterns, and elegant qipao dresses. Here in Haikou, a city with a history dating back over two thousand years, the native Chinese culture was strongly influenced by the culture of the South Seas, creating a unique blend of East and West here in Hainan's capital city - and it's definitely worth learning about!
Historic Qilou Streets:
A Mixture of East & West, a Journey to the Past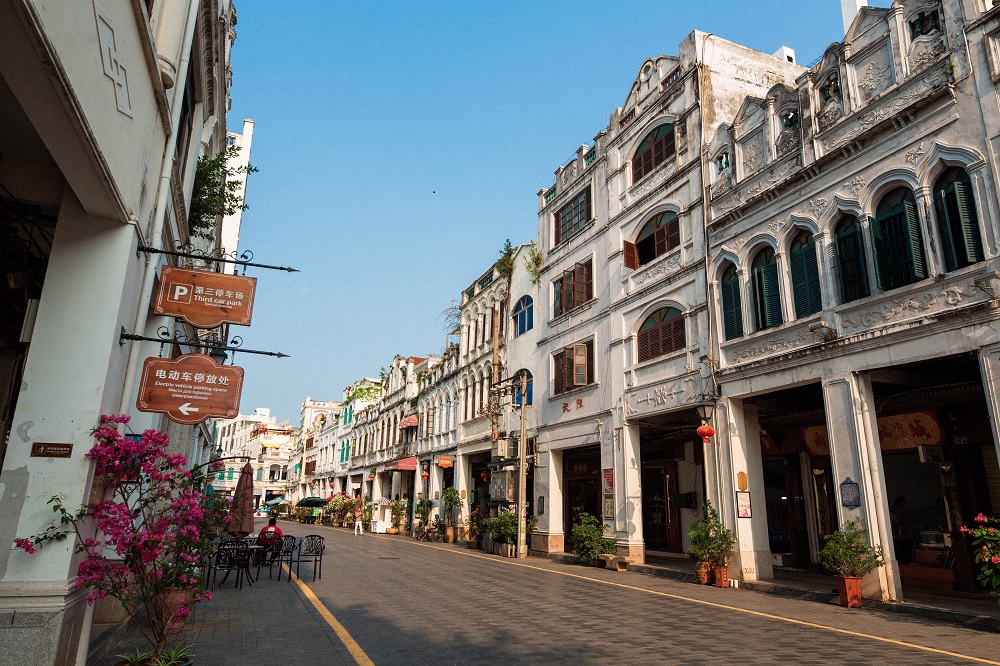 Haikou's Historic Qilou Streets feature traditional architecture frozen in time. If you only have a short time to learn about Haikou's unique cultural history, the Qilou Streets are absolutely the best place to go. The city was one of China's open ports during the late Qing Dynasty period. Hainanese traders traveled the South China Seas seeking their fortunes, and then returned home, bringing with them some of the culture of the Southeast Asian region, such as the architecture of the "qilou" or "arcade" style buildings, which feature a corridor sheltered from sun and rain beneath the overhanging upper stories. This architecture is rarely seen in Mainland China, and to this day still provides shaded, cool walkways for us to enjoy.
The Qilou buildings fuse the rich architectural traditions of China with the Western baroque architectural style. These two or three story buildings stand in linked rows, and were filled with ancient shops fronted by European styled pillared porches and Chinese style windows. As you walk along the Qilou streets, you'll see ancient carvings and be swept back through time to see how Haikou looked long ago.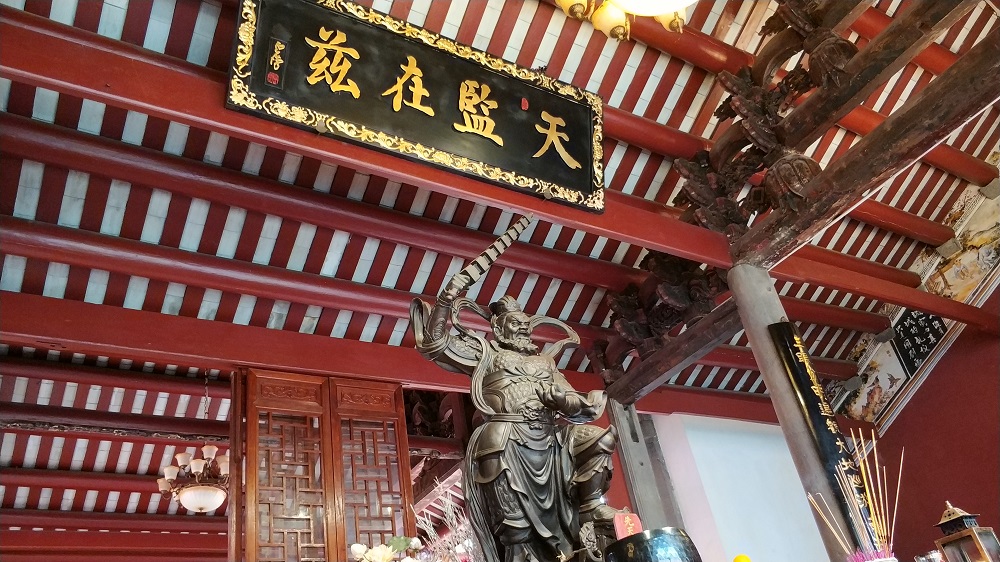 Who could have guessed that down a narrow alley on the Qilou Street, you'd find Hainan's largest and oldest Matsu Temple - the Tianhou Temple? Matsu is worshipped in China as the "Goddess of Boating" and the "Goddess of the Sea". Before going out to sea, many Chinese around the world will make a sacrifice to Matsu to pray for safe travels. The 700 year old Tianhou Temple is dedicated to Matsu, who is known as the "Protector of Haikou". Walking into a Chinese temple is to touch the soul of the ancient culture of this land, and entering the Tianhou Temple is to come in contact with the deepest spirit of this port city.
Night Brings a New Face to the Historic Streets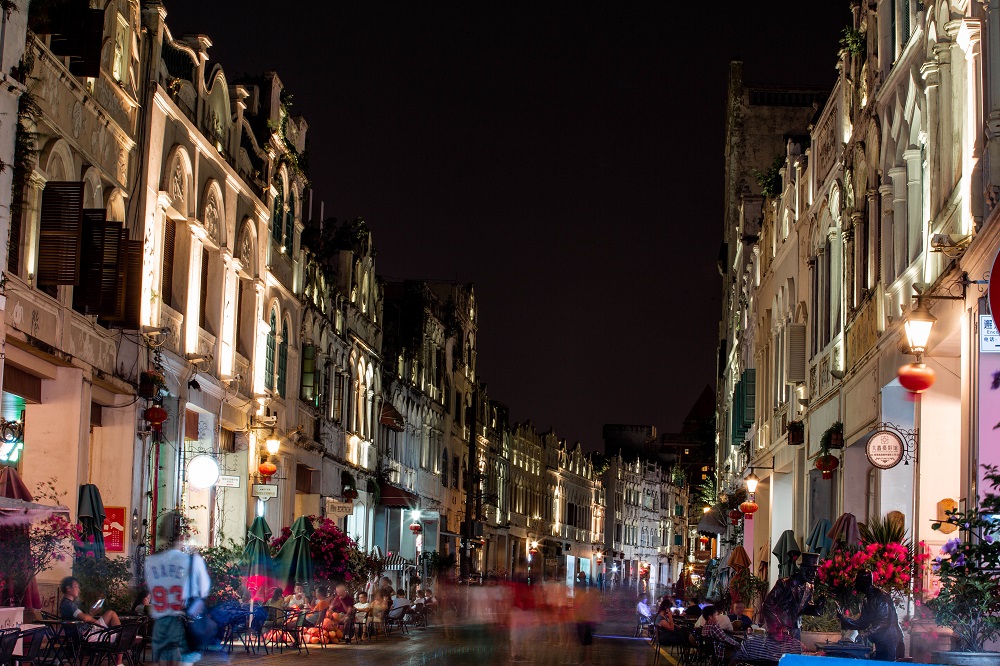 Nightfall brings a different ambiance to the Historic Qilou Streets of Haikou. Chinese style red paper lanterns and European style street lamps together illuminate the darkness, and the musical tones of many languages float from the windows of teahouses and coffee shops, carrying with them the city's romance and an air of relaxation. This is a scene you can only find here, on this island in the South China Sea!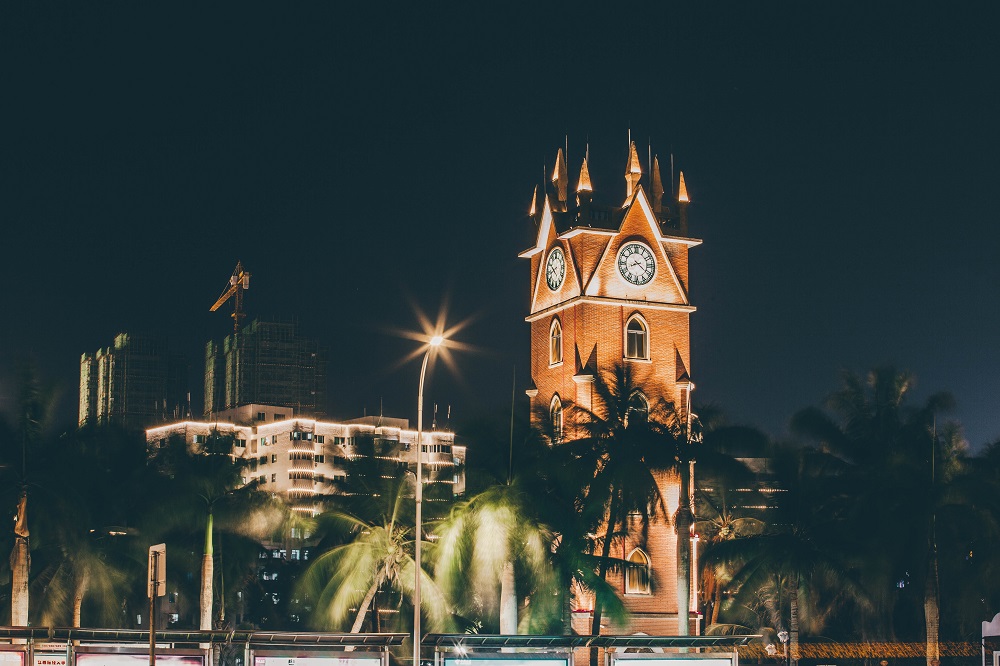 Follow the sound of the bells, and you'll discover a striking red tower standing opposite from the Qilou Streets. First built in 1928, the Haikou Clock Tower is built of sturdy red brick, which is beautifully illuminated at night. It's an iconic Haikou landmark as well as a popular spot for wedding photography. Make sure you get a photo to commemorate your visit to Haikou!
Have a Bowl of Qingbuliang and Taste the Flavor of Haikou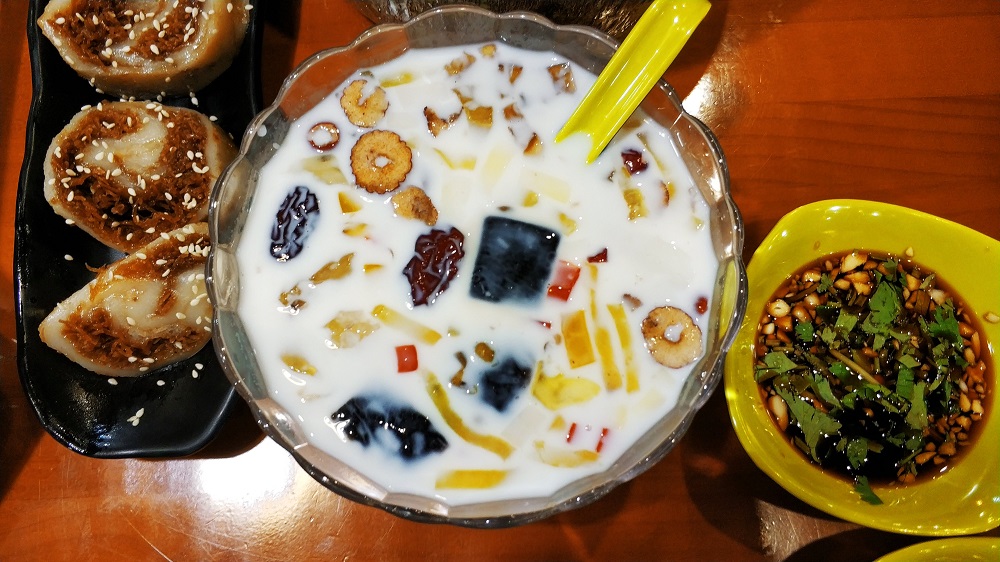 After a busy day seeing the sights, you definitely have to head over to the Qilou Streets to refresh yourself with an ice-cold bowl of the traditional Hainan dessert Qingbuliang, and taste the true flavor of Haikou. There are more than twenty different ingredient options for Qingbuliang, and you can choose as many as you like from peanuts, shredded coconut, red dates, watermelon, pineapple, and even a quail's egg! Try different combinations to see which one you like the best! Look for crowds around small carts or shops, and soon you'll discover that Qingbuliang is available all over Haikou, and you can have a bowl anytime you need a decadent, relaxing, mini vacation from your vacation.
There's so much more culture here in Haikou! Sometimes the best way to discover it is to throw away your map and just take a walk through the winding old streets, and find out for yourself what wonders the city has to offer!