Luxury Tours
Luxury Tours


What does luxury mean to you? A great meal in a spectacular setting? A spa treatment at a five star hotel? Having someone to take care of all the details? Or maybe just a sunny afternoon on your yacht at a secluded beach?

Luxury cruises, yacht marinas, private villas, international brand five star hotels, spas, golf courses, private jets and helicopters, first class flights, impeccable service… everything you require for your luxury vacation is waiting for you here in Hainan.
Enjoy a customized luxury tour in Hainan
Recommended route:
Day 1: Mission Hills 观澜湖
With 10 different golf courses, a luxury spa, hot springs, fine dining, quality accommodation, and several connected theme parks, you'll find everything you could dream of wanting at Mission Hills Resort. Improve your swing on one of the beautifully designed courses, head over to Mission Hills Centreville for a little shopping therapy, or spend the whole day pampering yourself in the spa.
Address: No.1 Mission Hills Road, Longhua District, Haikou 571100, China 海南省海口市龙华区观澜湖大道1号海南观澜湖度假区
Phone: +86 400 699 8818
Day 2: Sanya Island Helicopter Tour

There are many ways to get from Haikou to Sanya: direct flights, high-speed train, driving, bus…. but the most enjoyable is definitely to take a helicopter! Take off from Haikou, and fly over the city, getting a great view of iconic Century Bridge, Haikou Volcano, Holiday Beach, and Evergreen Park, and then flit south to Sanya!
In the Sanya area, there are plenty of spectacular places to fly over as well, including Haitang Bay, Phoenix Island, Nanshan Temple, Wuzhizhou Island,West Island, and many more! Take off from Phoenix International Airport, and fly along Sanya's East Coast on a helicopter tour of West Island, Banshan Peninsula, and Wuzhizhou Island. Fly along the West Coast and you will enjoy aerial views of several more beautiful small islands on your way out to Longqi Bay. Flying over central Hainan offers thrilling views of Wuzhi Mountain, Ledong, Dongfang, Danzhou, and many more beautiful scenic vistas.
Hainan Sanya Yalong General Aviation Co., Ltd. 海南三亚亚龙通用航空有限公司
Address: Across from the Army Airport, Sanya Bay Rd. 三亚湾路部队机场斜对面100米
Phone: +86 898 88391906
Recommended Hotels:

Earthly Paradise Bird Nest Resort 三亚亚龙湾人间天堂鸟巢度假村
Address: Yalong Bay National Holiday Resort, Sanya 572016, China 海南省三亚市亚龙湾国际旅游度假区 572016
Phone: +86 898 38219999

Day 3: Yacht Tour
Sanya is located on the South China Sea, where there are many charming small islands, perfect for visiting by yacht. Since Hainan is a tropical island province, it's perfect weather for yachting almost all year round. Sanya marinas are well equipped and ready to take care of all your yachting needs, from yacht rental, service, and repair, to yacht pilot hire and training.
Internationally registered yachts may stay in Sanya for up to 90 days, after securing the proper approvals.
Marinas are also located in beautiful secluded bays all around Hainan, so it's quite convenient to travel around the entire island province by yacht.
Recommended:
Visun Royal Yacht Hotel 鸿洲国际游艇酒店
Address: Inside Hongzhou Times Coast, No.2 Yuya Avenue, Sanya 572000, China 海南省三亚市榆亚大道2号鸿洲时代海岸内
Phone: +86 898 88600123
Major Hainan Marinas: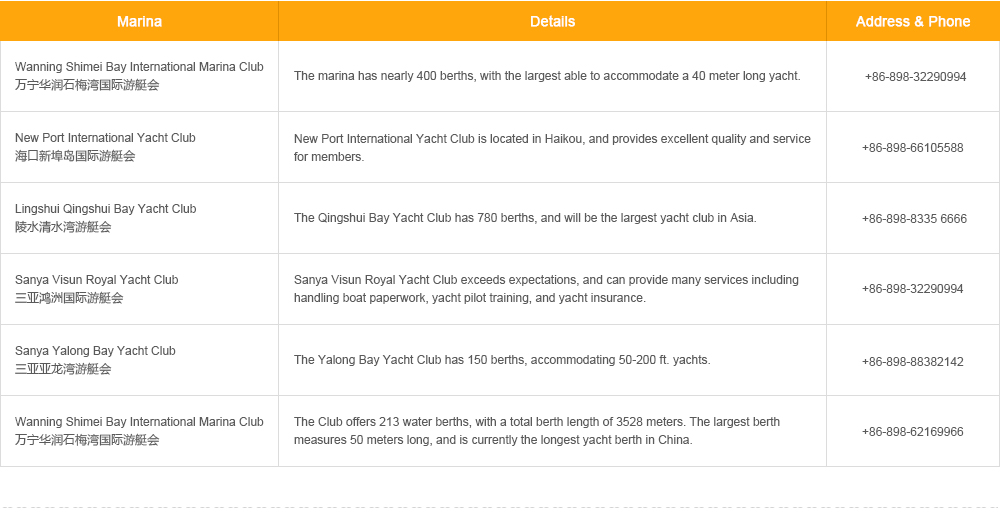 Yachting Tips
1. Don't forget your swimsuit, towel, and sunscreen!
2. When renting a yacht, you can inform the marina in advance of your food and beverage preferences, and they will be happy to prepare these items for you.
3. Carefully follow the safety instructions of the captain and crew when diving, fishing, swimming, or participating in other water activities.
4. Prepare any necessary seasickness medications in advance.
5. Avoid drinking or eating to excess before boarding or during your trip. Taking illegal drugs is strictly prohibited and punishable by law. Those with high blood pressure, heart disease, or severe seasickness should avoid yachting.
6. Take good care of the natural environment.
Important items:
1. Be aware of your surroundings both onboard the yacht and at the marina. Avoid tripping over ropes and other equipment.
2. Pay attention to safety while boarding and disembarking. The yacht may move against the dock at any time, so be sure to have a firm grasp on the railing and place your feet with care. Take your time crossing.
3. While on board, keep one hand on a rail or other sturdy handhold at all times, as the boat may sway or rock at any time. In addition, be aware of your footing at all times, to avoid tripping on ropes or other equipment, or slipping on a wet deck. While inside the cabin, the same precautions are necessary. Take care not to knock your head against cabin furnishings or equipment.
4. On the water, sunlight is more intense due to reflection from the waves. Re-apply sunscreen regularly, and wear hats, sunglasses, and clothing that covers as much skin as possible. In case of sunburn, apply some aloe or lotion to moisturize the skin, and take some aspirin to reduce the pain.
5. Familiarize yourself with the yacht's basic operation and equipment before setting out, and learn what to do in case of an emergency.
Luxury Cruise Tour
Many luxury cruise lines visit Hainan. Carnival, Royal Caribbean, and Star Cruise lines all have routes to Sanya and Haikou. Hainan is currently China's only province with two cruise home ports, and Star Cruises and HNA's Henna both sail from Hainan to Vietnam. Check the current listings to see what cruises are currently available.
The cruise season in Hainan generally runs from October through April.