West Line High Speed Rail Tour
West Line High Speed Rail Tour

On your Journey to the West, set off from Sanya and return to Haikou along Hainan's ruggedly beautiful West Coast. The highlights here are all natural beauty and pristine landscapes, letting you escape from the crowds and forge your own path. See the windmills spinning on the coast of Dongfang, and the lighthouse guarding the rocky shore. Stroll on the multicolored pebbles of Changjiang's Chess Bay, take a boat ride into the mysterious depths of Danzhou's Stone Flower Water Cave, and see the thousand year old Yangpu Salt Flats, stillproducing salt today. Devour a tender Lin'gao roast suckling pig, stop in Fushan for some fresh brewed locally grown coffee, and don't forget to save some room for traditional Hainan treats at Haikou's Qilou Snack Street!
The West Line High Speed Rail covers a total distance of 345 km., running between Haikou in the north and Sanya in the south, with 16 convenient stops linking West Hainan's 6 towns and counties. This is a highly scenic route, crossing over 150 bridges and passing through a total of 13 tunnels. The completion of the West Line in Dec. 2015 created the world's first round island high speed rail line, linking Hainan's entire coastline in one fast and convenient 3 hour loop.
At Sanya and Haikou stations, passengers can switch between the East and West Lines. Some trains do not stop at all West Line stations, so be sure to check your specific train's route before booking your ticket, which can be done through WeChat.
West Line High Speed Rail Route:
Laocheng Town – Fushan Town – Lin'gao South – Yintan – Baimajing – Chess Bay – Dongfang – Jinyue Bay – Jianfeng – Huangliu – Ledong – Yazhou – Fenghuang Airport -- Sanya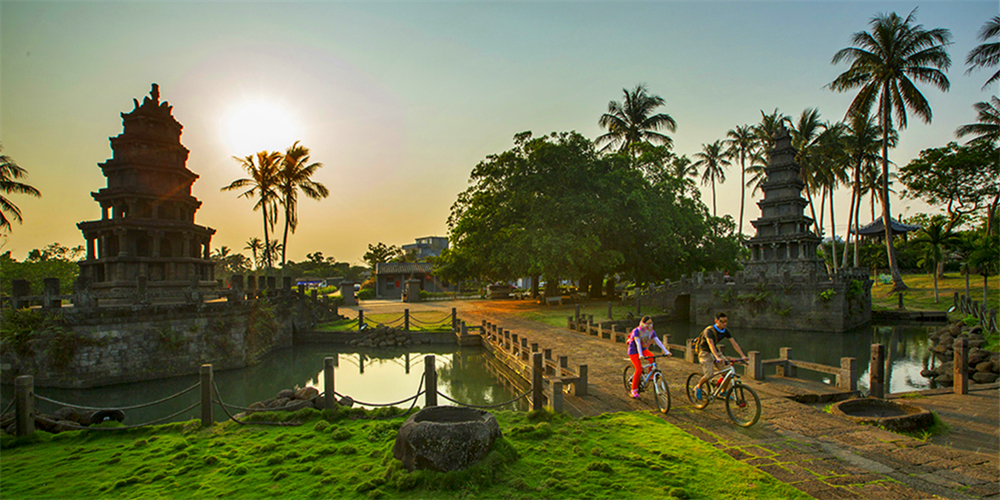 Chengmai: Laocheng Station, Fushan Station 澄迈: 老城站 福山站
Sightseeing: Buddhist temples, pagodas, historic sites
Recommended destinations: Yongqing Temple, Fushan Coffee Town, Jialongping Rainforest, Meilang Sister Towers, Luoyi Longevity Village
Local Cuisine: Fushan coffee, beef jerky, zongzi, pickled vegetables, roast suckling pig, sweet potatoes, Bailian goose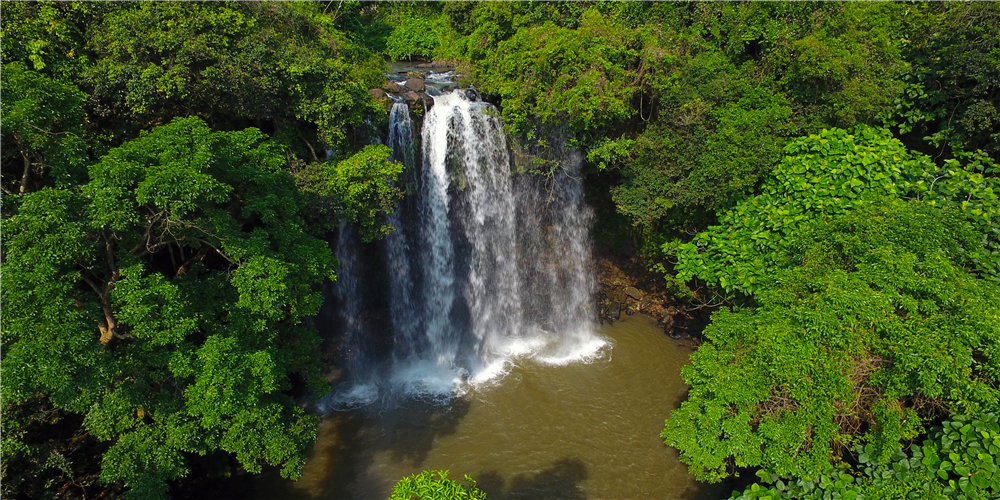 Lin'gao Station 临高南站
Sightseeing: scenic views, historic sites
Recommended destinations: Lin'gao Cape, Gaoshan Peak, Lin'gao Wen Temple, Duowen Peak, Bairen Beach, Houshui Bay, Juren Waterfall
Local cuisine: Lin'gao roast suckling pig, clay pot seafood, simmered conch, steamed crabs, garlic chive pastries, Lin'gao rice noodles

Danzhou: Yintan Station, Baimajing Station 儋州: 银滩站、白马井站
Sightseeing: historic sites, historic home of Dongpo
Recommended destinations: Dongpo Academy, Tropical Botanical Gardens, Yangpu Ancient Salt Flats, Ancient Zhonghe Town, Lanyang Hot Springs, Songtao Resevoir, Stone Flower Water Cave
Local cuisine: Qingbuliang (dessert soup), rice noodles, white rice layer cakes, zongzi, Dongpo pumpkin pastries, Dongpo nut pastries, Xinying fried seafood rice noodles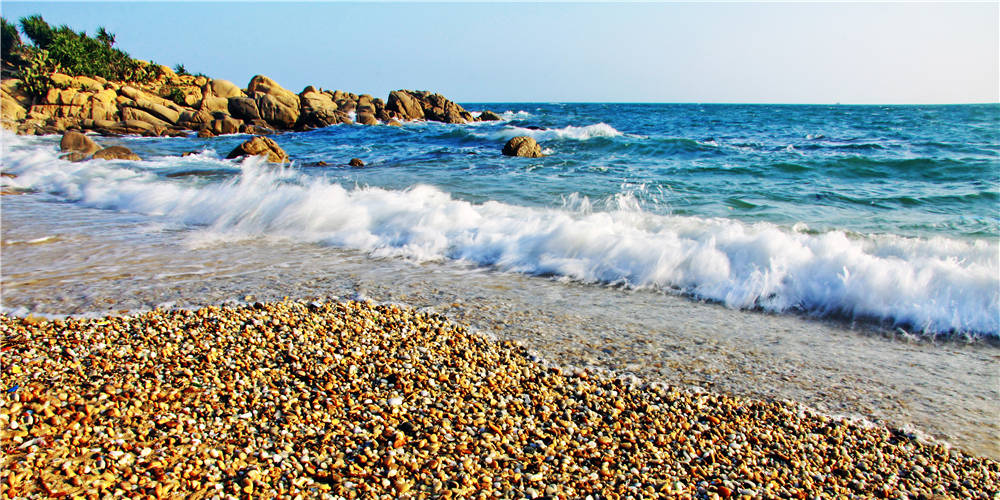 Changjiang: Chess Bay Station 昌江【棋子湾站】
Sightseeing: pristine seacoast, rainforests, flowers
Recommended destinations: Bawangling National Forest Park, Chess Bay, Kapok blossoms, Haiwei Wetland Park, Emperor Cave
Local cuisine: Wulie goat, Changcheng suckling pig, freshwater fish, Changhua seafood, Xingang crab, mangoes, bamboo rice

Dongfang: Dongfang Station, Jinyue Bay Station 东方: 东方站、金月湾站
Sightseeing: Li minority culture
Recommended destinations: Daguang Dam, windmill lined coast, E'xian Mountain, Datian Eld's Deer Conservation Area
Local cuisine: roast suckling pig, black pepper stewed pork, pumpkin rice, coconut rice, Dongfang goat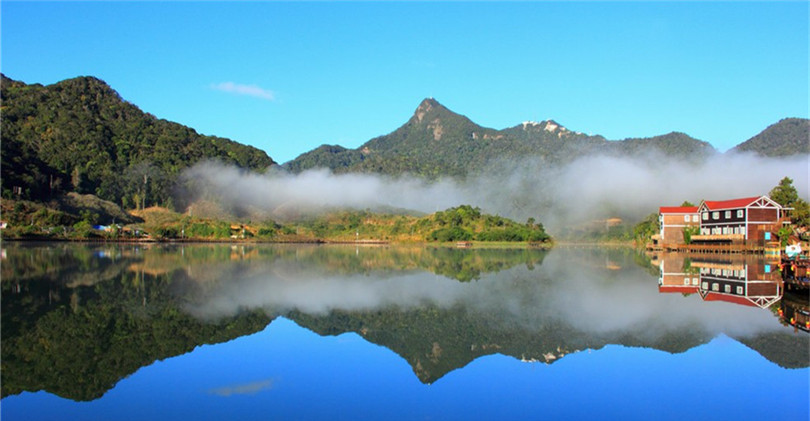 Ledong: Jianfeng Station, Huangliu Station, Ledong Station 乐东境: 尖峰站、黄流站及乐东站
Sightseeing: Rainforests, rare plants and animals
Recommended destinations: Jianfeng Peak, Maogong Mountain, Longmu Lake
Local cuisine: Coconut 8 treasure rice, Huangliu duck, coconut pastries, coconut cakes, black pepper stewed pork, cantaloupes, bamboo beef rice, five foot pork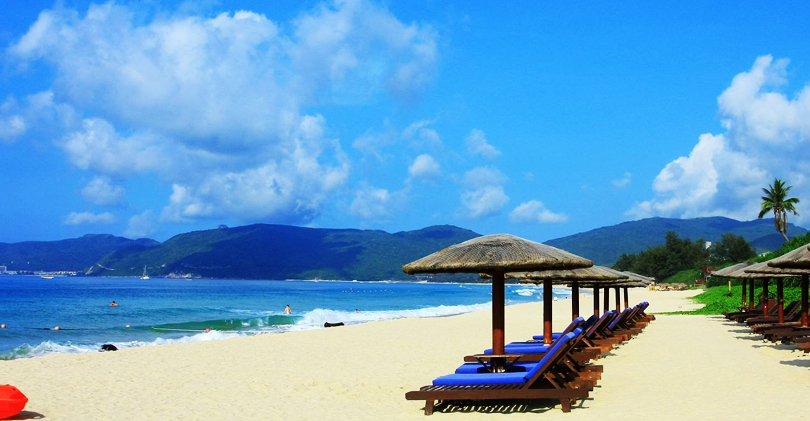 Sanya: Phoenix Airport Station, Sanya Station 三亚:凤凰机场站, 三亚站
Sightseeing: Luxury R&R, Beach Town
Recommended Destinations: Wuzhizhou Island, Yalong Bay, West Island, Dongtian Park
Cuisine: Seafood, High End Restaurants including Gordon Ramsay's award-winning Bread Street Kitchen and Bar