Top 10 Hainan Hiking Destinations
1. Diaoluo Mountain 吊罗山
When is the last time you went on an adventure? Here is your chance. Diaoluo Mountain is one of the 5 tropical rainforest regions on Hainan Island. The biggest difference between Diaoluo Mountain and other mountains is water, with waterfalls, streams and ponds everywhere! The most famous one is the 100-meter-high Fengguoshan Waterfall cluster, a natural tourist draw of the mountain.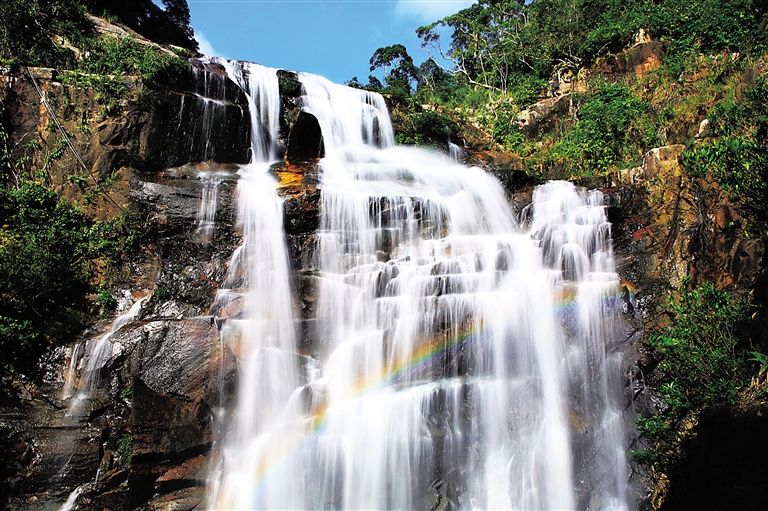 Located northwest of the Diaoluoshan National Rainforest Park in Lingshui County, the Fengguoshan Waterfall is the largest waterfall in Hainan.
The waterfall actually consists of 4 separate falls, namely, Xianlei Waterfall, Bingxin Waterfall, Sigui Waterfall and Caihong Waterfall.
The changing seasons transform the natural scenery of the waterfall throughout the year. The most magnificent fall is over 60 meters wide and has a maximum drop of more than 150 meters. It flows swiftly year-round.
2. Seven Fairy Mountain, Baoting 保亭七仙岭

Seven Fairy Mountain, located in Baoting, offers a fairly, but not extremely,challenging hike. Hikers can take a tram to the trail entrance, and back down again. The trail is paved with steps, and there are occasional rest points which sometimes sell beverages and snacks.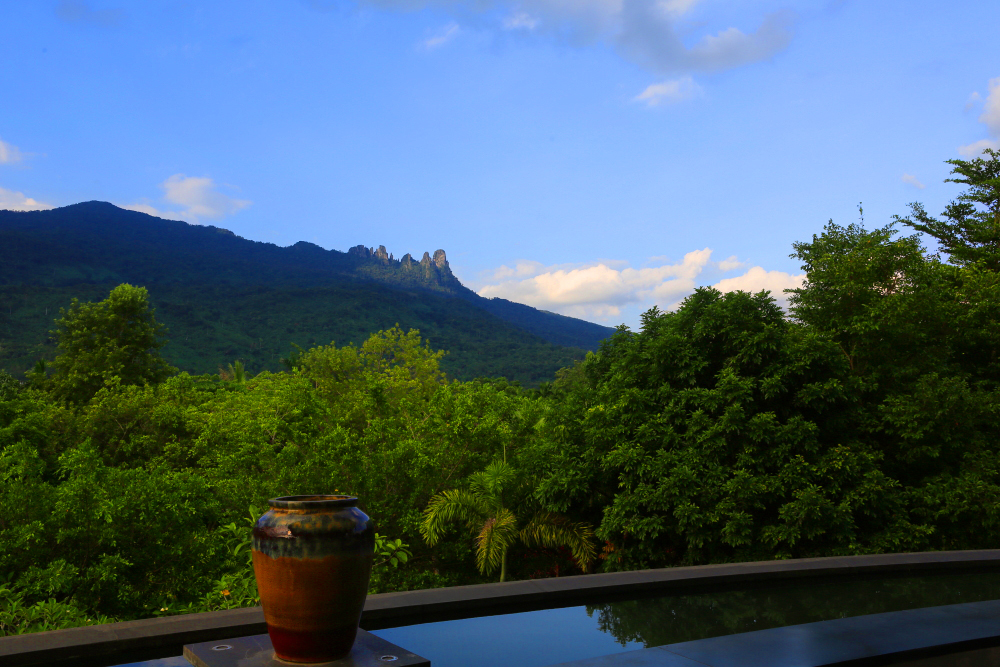 The trail parallels a stream, and small waterfalls and pools can be seen and even waded in, providing a cool and refreshing diversion. The surroundings are full of life, from the lush rainforest, to the birds, insects, and small animals you will be able to spot as you climb. The last 200 meters to the peak is more difficult, involving a vertical climb which can be accomplished by pulling yourself up ladders and chains which have been secured to the rock face.
Even if you decline to climb this section, the rest of the hike is well worth the trip. After the climb, why not soak away any aches and pains in the many local hot springs?
Height: 1126 meters
Tickets to enter the Seven Fairy Mountain Park: 48 RMB/person
3. Haitang Bay, Sanya 三亚海棠湾
The 19 km. long shoreline at breathtaking Haitang Bay is shining white sand, shaded by waving palm branches, making this a great beach hiking destination. Nearby Nantian Hot Springs will help you work out the aches and pains, or head across the bay to Wuzhizhou Island for another great hike.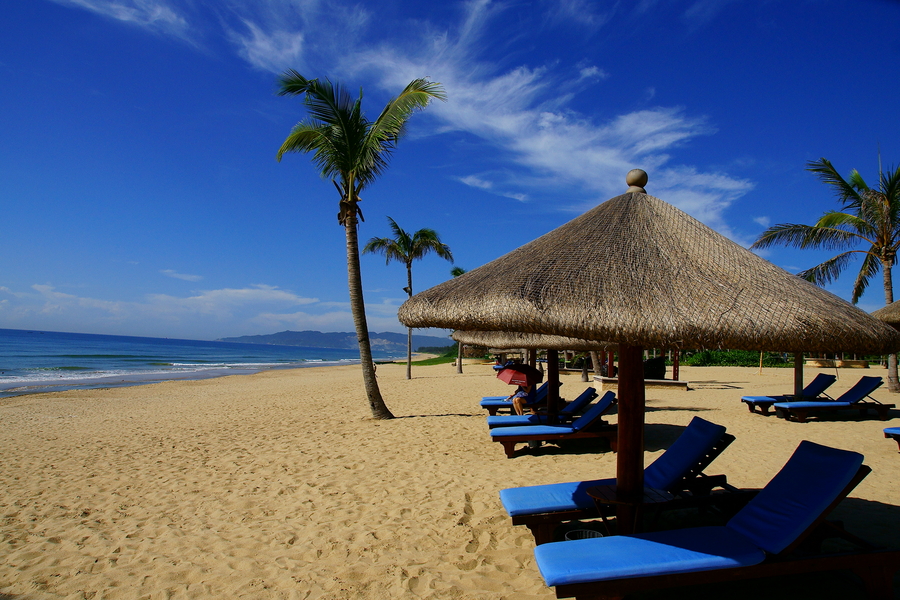 4. Chess Bay, Changjiang 昌江棋子湾
This S-shaped bay extends for 20 km., and is known for the many oddly shaped stones and reefs scattered along the shores. Wild pineapples, dates, and other fruits grow here, and the Bay is near another great hiking destination: Bawang Ridge Forest Park.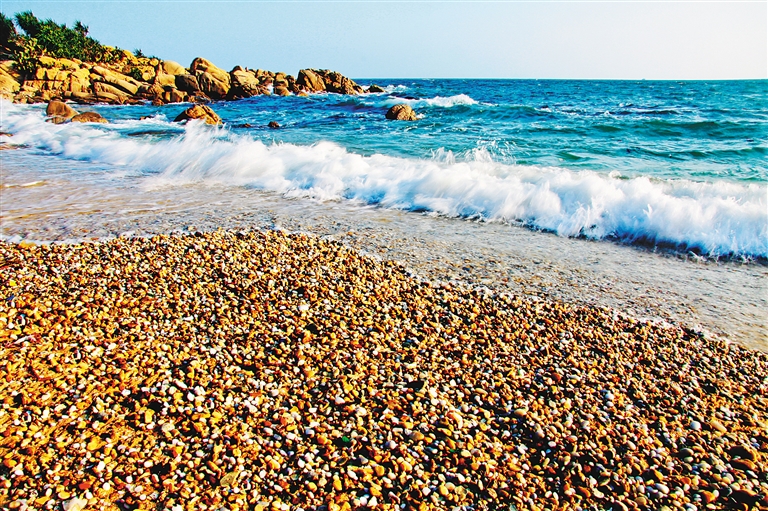 5. Jianfeng Ridge, Ledong 乐东尖峰岭
Jianfengling Rainforest Park, this vast rainforest preserve is crisscrossed by clear mountain streams tumbling over boulders that are just perfect for scrambling over. The trails in the park are for the most part natural paths, unlike the cement paths and thousands of artificial steps that hikers in many other Chinese parks must endure.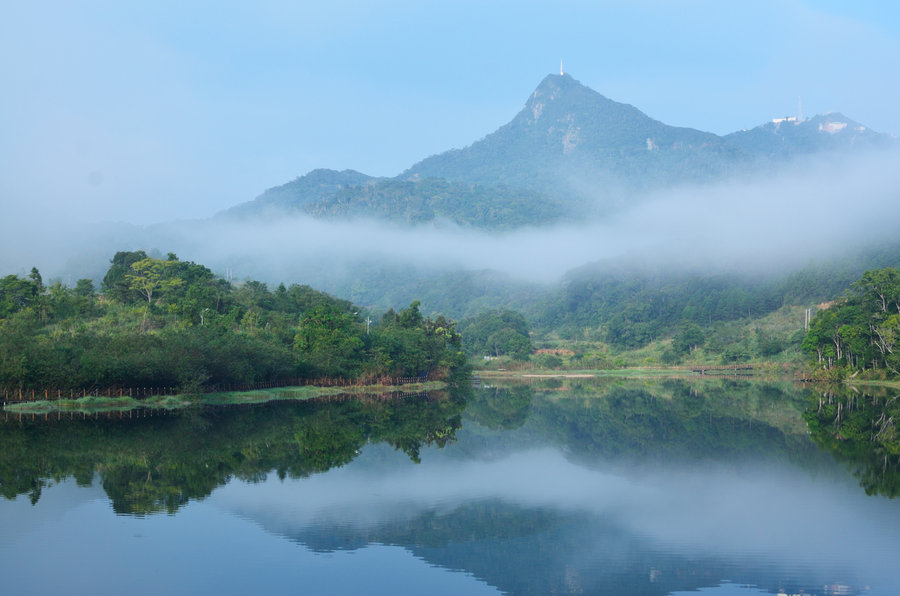 Visit Heaven Lake, hike up to the magnificent waterfalls, catch a glimpse of rare endangered forest life, climb the mountain peaks, or just spend some time relishing a chance to get away from the crowds and into a truly wild natural environment. While the hikes in this area are not terribly difficult, transportation to the area is somewhat inconvenient. It's best to arrange a private car. Entrance to the park costs 40 RMB/person.
6. Dongshan, (East Mountain), Wanning 万宁东山
This is one of Hainan's easiest mountain hikes, as Dongshan only reaches an elevation of 184 meters high. However, there's plenty to see and do on the way up: ancient temples to see, mysterious caves to explore, and ancient springs to dip fresh water from.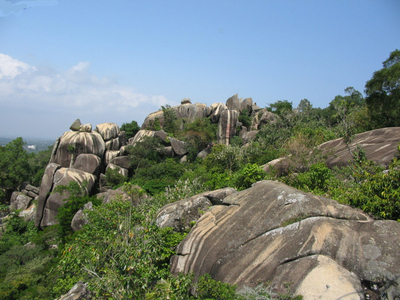 This easy hike is perfect for families with young children, who will surely enjoy the cable car ride down the mountain.
Tickets: 50 RMB/person
7. Bawang Ridge, Changjiang 昌江霸王岭
The Yajia Waterfall is located on the Yajia Ridge with a height of about 1,000 meters. As roaring water falls down, visitors can almost feel the force of it against the rocks. When in full flow during the monsoons, 15,000 cubic meters of water fall down the cliff every second.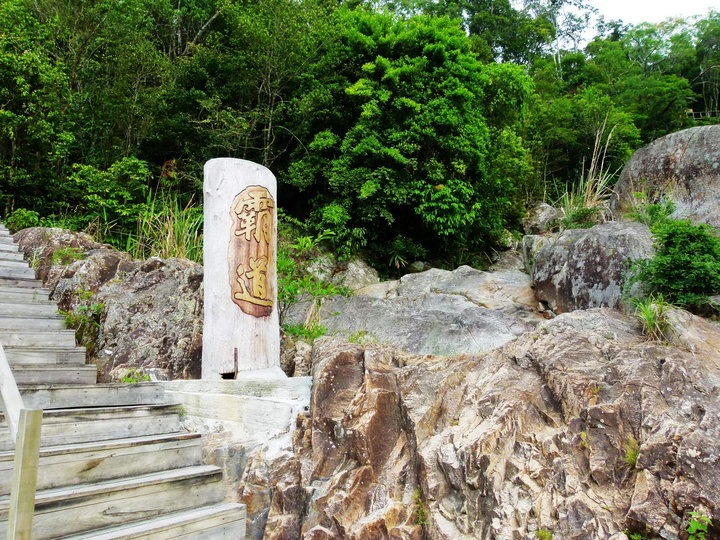 The hike between Bawang's mountain pass and peak is mostly straight up and takes around two and a half hours. While it's often humid, the park's altitude and unique ecosystem result in an average temperature of 19.7C. On a clear day, climbers who make it to the top of Bawang are rewarded with a 360-degree view.
With over 250 species per square hectare, enthusiasts can easily lose track of time while exploring the multitude of ancient paths and secluded caves in the rainforests of Hainan. The area is also one of the best places to see rare birds and insects, including a kingdom of butterflies with over 400 different kinds of butterfly species alone. Trail walkers who pass through quietly can spot exotic birds, indigenous flowers and fruits, as well as small clouded leopards roaming the forest and indigenous black gibbons sprawling along the roads and flying through the treetops.
Bawangling National Nature Reserve
Admission: RMB 30 per person
8. Dazhou Island (Bird's Nest Island), Wanning 万宁大洲岛
Dazhou Island is a pristine, completely undeveloped and uninhabited island located 5 km. off the coast of Wanning. The undeveloped island is the only home of China's unique Jinsi Swifts. Their nests are harvested here on Dazhou island to make bird's nest soup, a delicasy in Chinese cuisine. Other wildlife abounds here, including pangolins, lizards, partriges, eagles, herons, petrels, and more, making this the ideal location for an island nature hike.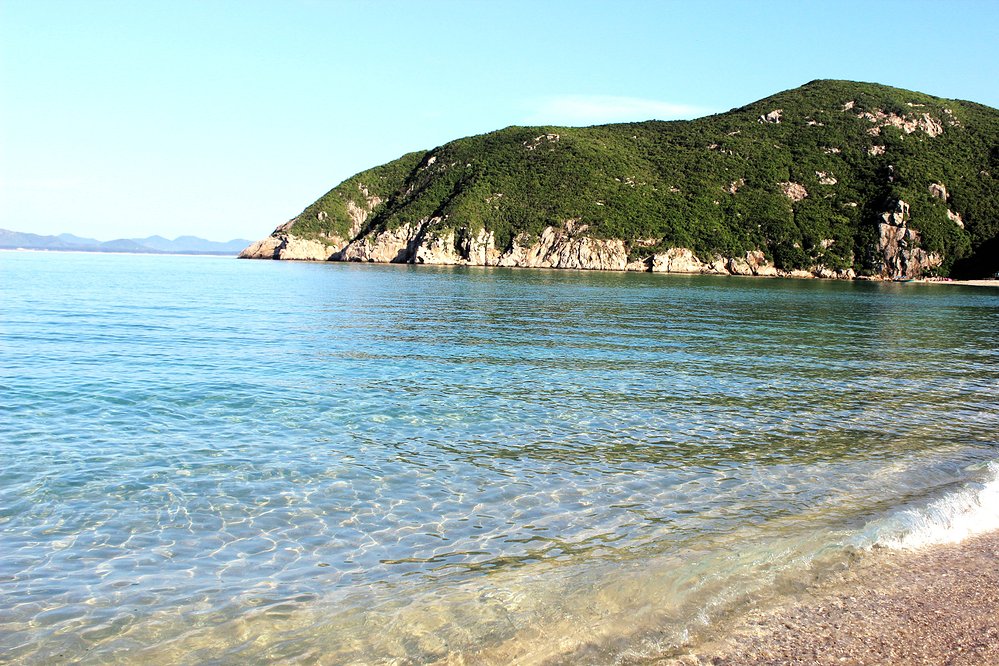 No tickets are required to visit the island. You will need to bring everything you need for your hike, especially plenty of water to drink.
The island can be reached only by boat.
9. Daxiao Dongtian Cave Park, Sanya 三亚大小洞天
Sanya's Daxiao Dongtian Cave Park, sometimes called Fairyland, features an alluring rocky coastline, mountain hiking trails, caves to explore, outdoor picnic areas, whimsical stone statues, and a small fossil museum with dinosaur eggs and other local fossils.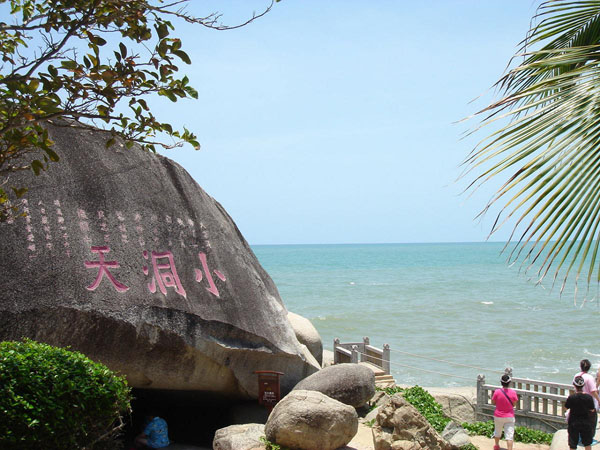 The expansive area of the park provides lots of places to get away from the crowds and enjoy nature. The beach is not suitable for swimming, but is terrific for rock climbing.
Daxiao Dongtian Cave Park is rated a 5A tourist attraction.
Ticket Price: 135/person
Hours: 7AM – 6 PM
Phone: +86 898 88830188
Address: Daxiao Dongtian, Yacheng, Sanya
Website: http://www.sanyapark.com/about_p1.html
10. Yahu Rice Terraces in Wuzhishan City 五指山牙胡梯田
Yahu Terrace Field in Wuzhishan city offers breathtaking terraced vistas unlike any other area of Hainan.
Located within Maoyang Township, 40 kilometers away from Wuzhishan City, a vast region of terraces stretches layer upon layer along the slopes, from mountain tops to the borders of verdant forests. The Yahu Rice Terraces are the perfect hiking spot for photographers and lovers of scenic views.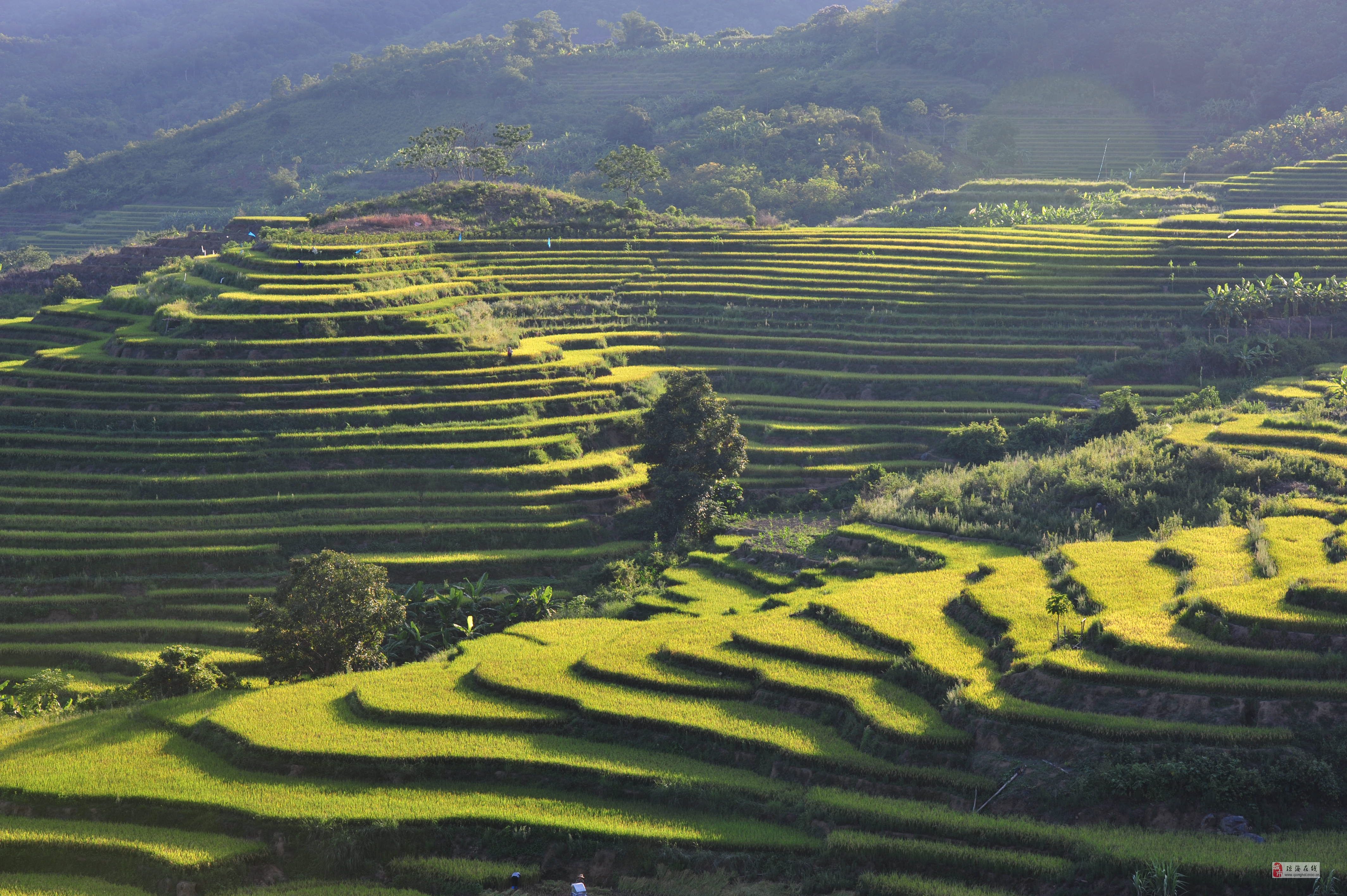 The Yahu Terrace Field is beautiful natural landscape that can be explored in every season. There is no charge to enter the area. In addition to the amazing scenery, Wuzhishan is also of great cultural interest, as most of the inhabitants are Li and Miao minority peoples. Experience the traditional Li and Miao way of life and culture, visiting the small villages where people live in the same way they have for thousands of years. Visitors can visit with local families and enjoy Wuzhishan cuisine such as Shanlan Wine and Three-colored Rice.