2017 Tour of Hainan Routes Released
2017 Tour of Hainan Routes Released
Dates: Hainan        Location: Oct 28 – Nov. 5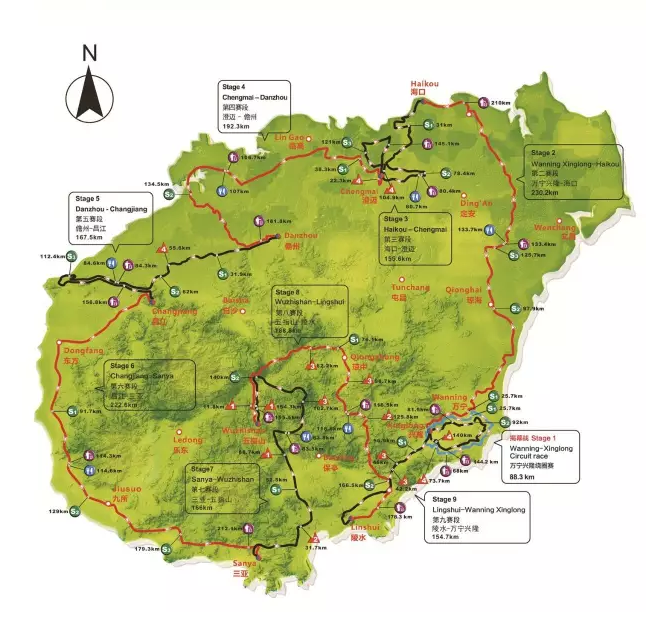 The 2017 (12th) Tour of Hainan cycling race is set to be held from Oct. 28 to Nov. 5 this year, and the routes for the nine stages of the race have just been released. The cycling routes take the riders all around tropical Hainan province, giving cyclists and audience an incredible opportunity to enjoy the beauty of this fascinating island.
2017 Tour of Hainan Stage Routes:
Stage 1: Oct. 28 Xinglong, Wanning Loop 88.3 km.
Stage 2: Oct. 29 Xinglong, Wanning – Haikou 230.2 km.
Stage 3: Oct. 30 Haikou – Chengmai 155.6 km.
Stage 4: Oct. 31 Chengmai – Danzhou 192.3 km.
Stage 5: Nov. 1 Danzhou – Changjiang 167.5 km.
Stage 6: Nov. 2 Changjiang – Sanya 222.6 km.
Stage 7: Nov. 3 Sanya – Wuzhishan 166 km.
Stage 8: Nov. 4 Wuzhishan – Lingshui 188.8 km.
Stage 9: Nov. 5 Lingshui – Xinglong, Wanning 154.7 km.

The Tour of Hainan attracts professional cyclists from around the world every year. This year the total race distance is 1566 km., for an average distance of 174 km. per stage. Each stage beginning and end point has been placed close to high end hotels, in order to give participants more time to rest and a better overall race experience.
by Nicki Johnson
Explore Hainan